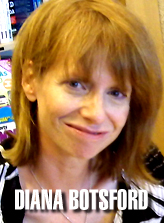 Diana Botsford
In addition to writing, producing and directing for a wide variety of television series and films, Diana Botsford teaches screenwriting as an assistant professor at Missouri State University. She has degrees in Screenwriting & Producing from Boston University and Creative Writing from Seton Hill University. Prior to joining Missouri State University, she spent twelve years in Los Angeles in the television and film industry, followed by five years developing streaming media content and community-driven web sites for Microsoft.

Ms. Botsford's screenwriting credits include Star Trek: The Next Generation, Spiral Zone and a variety of children's series for CBS, NBC and independent networks. As a visual effects director, she has enjoyed the opportunity to play techno junkie while telling people like George Clooney how to stand in front of a green screen. She has produced multiple series for television, such as the CBS series Harts of the West and Nightgames. Her theatrical credits include visual effects directing and supervision for a wide variety of films, including Nightmare of Elm Street VI, Tank Girl, From Dusk Til Dawn, Terminator 2 and many independent films. As associate producer for D.I.C. Enterprises and then later as VP of Family Programming for Kushner-Locke, she produced over 1,000 hours of animation for shows that included Inspector Gadget, Heathcliff, M*A*S*K Force, Spiral Zone and the Columbia/Tristar film Pound Puppies & the Legend of Big Paw. Most recently, Ms. Botsford created and executive-produced the science fiction web series Epilogue, a Missouri State University production. She has also served as executive producer on the Electronic Arts SF short Apollo, which was a recent selection at the Athens (Greece) International Science Fiction Film Festival.

Ms. Botsford's primary writing focus is on science fiction for a variety of media including books, film, television, theatre and comics. In addition to her Stargate: SG-1 novel The Four Dragons (Fandemonium Books, 2010), and its sequel, The Drift (2012), her recently completed written work includes the SF novel Critical Past and the comic book series The Fracture. She is oftentimes a speaker or workshop leader at various writers conferences and science fiction conventions.

Ms. Botsford was a guest of honor at TrekTrax Atlanta in 2011.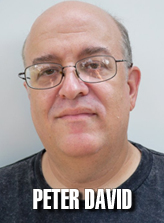 Peter David
Peter David is a prolific author whose career and continued popularity spans nearly two decades. He has worked in every conceivable media: television, film, books (fiction, non-fiction and audio), short stories and comic books, and acquired followings in all of them.
In the literary field, Mr. David has had over fifty novels published, including numerous appearances on The New York Times Bestsellers List. His novels include Sir Apropos of Nothing and the sequel The Woad to Wuin, Knight Life, Howling Mad and the Psi-Man adventure series. He is the co-creator and author of the bestselling Star Trek: New Frontier series for Pocket Books, and has also written such Star Trek novels as Q-Squared, The Siege, Q-in-Law, Vendetta, I, Q (with John de Lancie), A Rock and a Hard Place and Imzadi. He produced the three Babylon 5 Centauri Prime novels, and has also had his short fiction published in such collections as Shock Rock, Shock Rock II and Otherwere: Stories of Transformation, as well as Isaac Asimov's Science Fiction Magazine and The Magazine of Fantasy and Science Fiction.
Mr. David's comic book résumé includes an award-winning twelve-year run on The Incredible Hulk, and he has also worked on such varied and popular titles as Supergirl, Young Justice, Soulsearchers and Company, Aquaman, Spider-Man, Spider-Man 2099, X-Factor, Star Trek, Wolverine, The Phantom, Sachs & Violens and many others. He has also written comic book-related novels, such as The Incredible Hulk: What Savage Beast, and co-edited The Ultimate Hulk short story collection. Furthermore, his opinion column "But I Digress..." has been running in the industry trade newspaper The Comic Buyers' Guide for nearly a decade, and in that time has been the paper's consistently most popular feature and was also collected into a trade paperback edition.
Mr. David is the co-creator, with popular science fiction icon Bill Mumy (of Lost in Space and Babylon 5 fame) of the Cable Ace Award-nominated science fiction series Space Cases, which ran for two seasons on Nickelodeon. He has written several scripts for the Hugo Award-winning TV series Babylon 5 and the sequel series, Crusade. He has also written several films for Full Moon Entertainment and co-produced two of them, including two installments in the popular Trancers series, Trancers 4: Jack of Swords and Trancers 5: Sudden Deth, as well as the science fiction western spoof Oblivion, which won the Gold Award at the 1994 Houston International Film Festival for best Theatrical Feature Film, Fantasy/Horror category, and the sequel Backlash: Oblivion 2.
Mr. David's awards and citations include the Haxtur Award 1996 (Spain), Best Comic script; OZCon 1995 award (Australia), Favorite International Writer; Comic Buyers Guide 1995 Fan Awards, Favorite writer; Wizard Fan Award Winner 1993; Golden Duck Award for Young Adult Series (Starfleet Academy: #1: Worf's First Adventure), 1994; UK Comic Art Award, 1993; Will Eisner Comic Industry Award, 1993. He lives in New York with his wife, Kathleen, and has four daughters, Shana, Gwen, Ariel and Caroline.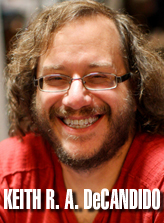 Keith R. A. DeCandido
Keith R. A. DeCandido has written for more than two dozen different licensed universes, including Star Trek (dozens of pieces of fiction, most recently The Klingon Art of War, which debuted at this convention in 2014), Stargate SG-1 (the new novel Kali's Wrath and a short story in Far Horizons), Firefly (the novelization of Serenity and an adventure for the Firefly RPG), Farscape (the "fifth-season" comics published from 2008-2011, written with series creator Rockne S. O'Bannon), Heroes Reborn (Save the Cheerleader, Destroy the World), Sleepy Hollow (Children of the Revolution), Supernatural (Nevermore, Bone Key and Heart of the Dragon), World of Warcraft (Cycle of Hatred), Doctor Who (short stories in Decalog 3: Consequences and Destination Prague), The X-Files (a short story in Trust No One), Marvel Comics (two Spider-Man novels, a bunch of short stories and an upcoming trilogy) and tons more. His original work includes the "Precinct" series of fantasy police procedurals, starting with Dragon Precinct in 2004 and continuing through half a dozen books and short stories; a cycle of urban fantasy short stories taking place in Key West that have appeared in Ragnarok and Roll: Tales of Cassie Zukav Weirdness Magnet, Out of Tune, Bad-Ass Faeries: It's Elemental, Without a License: The Fantastic Worlds of Keith R. A. DeCandido, Buzzy Mag and Story of the Month Club; the Super City Police Department stories and novels (The Case of the Claw and stories in With Great Power and The Side of Good/The Side of Evil); and an upcoming series of urban fantasy novels based in New York City featuring a monster hunter named Bram Gold. In 2009, he received a Lifetime Achievement Award from the International Association of Media Tie-in Writers, which means he never needs to achieve anything ever again. He has been doing rewatches of shows in the Star Trek and Stargate franchises for Tor.com since 2011, as well as the 1966 Batman. Mr. DeCandido is also a freelance editor, a second-degree black belt in karate, a veteran podcaster, a member of the Liars Club, an avid baseball fan and probably some other stuff that he can't remember due to the lack of sleep. Find out less at his cheerfully retro web site at DeCandido.net.

Mr. DeCandido was a guest of honor at TrekTrax Atlanta/Treklanta in 2013, 2014 and 2015.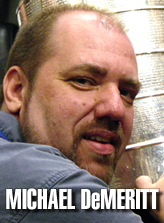 Michael W. DeMeritt
Michael W. DeMeritt was an assistant director on Star Trek: Voyager and Star Trek: Enterprise. He joined the staff of Voyager as second assistant director during its first season, having previously worked in that position for three years (1992–95) on the drama series L. A. Law. He became the key second assistant director on Voyager during its fourth season and ultimately rose to first assistant director of Voyager before the series ended in 2001.

Mr. DeMeritt moved on to Enterprise, where he rotated between key second assistant director and first assistant director with Jerry Fleck. After Fleck's death in 2003, Mr. DeMeritt continued working as the show's first assistant director until its cancellation in 2005.

A graduate of Michigan State University, Mr. DeMeritt was selected for the Directors Guild of America's (DGA) Producer Training Program in the early 1990s. As a DGA trainee, Mr. DeMeritt worked on such projects as the television series The Wonder Years and Quantum Leap, the 1991 comedy All I Want for Christmas, the 1992 films Newsies and Jennifer Eight and the 1992 HBO drama Citizen Cohn.

After Enterprise, Mr. DeMeritt became a second assistant director on the CBS series Las Vegas in 2006. He then moved on to another CBS series, Close to Home, on which he worked between 2006 and 2007. He continued his association with CBS as second assistant director of the vampire series Moonlight (2007-2008), the drama series Californication (2007) and then worked as first assistant director on the television pilot Boldly Going Nowhere (2009).

More recently, Mr. DeMeritt served as line producer on Geneviere Anderson's cooking show Gen's Guiltless Gourmet (2009) and as first and second assistant director on the drama series Make It or Break It (2009-2010).

In addition to his work as an assistant director, Mr. DeMeritt is also a writer and a poet. In 1995, he wrote a comic book story based on an unused outline for Star Trek: The Next Generation called "Pandora's Prodigy." During his time on Voyager and Enterprise, he would write humorous poems and recite them to the cast as well as the hair and makeup crews. Many of the poems were specifically about Star Trek, with titles such as "Changing Captains" (about Kate Mulgrew being cast as Kathryn Janeway), "Jeri Ryan" (for the actress of the same name), "Scott" (for actor Scott Bakula) and "Shran Rap." Jeri Ryan convinced Mr. DeMeritt to keep some of his poetry rather than discard them as he had been doing and in 2006, he published a book of his work called Poetry and Prose from the Director's Ass.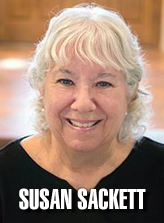 Susan Sackett
Susan Sackett was born in New York City, raised in Connecticut and moved to Florida after graduating from Hillhouse High School in New Haven. She received her Bachelor of Arts and Master of Education degrees from the University of Florida at Gainesville. After teaching elementary school in Miami for two years, she moved to Los Angeles, where she taught for a short time. She quit her teaching job to work in the entertainment industry, spending four years with NBC as a publicity assistant and commercial coordinator. In 1974, Ms. Sackett began an association with Gene Roddenberry, serving as his personal executive assistant for over 17 years until his death in 1991. She also served as his production assistant on Star Trek: The Motion Picture and worked closely with him on the next five Star Trek films. In addition, she served as a production associate during the first five seasons of Star Trek: The Next Generation. Ms. Sackett and her writing partner, Fred Bronson, wrote the Next Generation episodes "Ménage à Troi" (teleplay) and "The Game" (story credit). Additionally, while working full-time as Roddenberry's assistant, Ms. Sackett wrote three books about Star Trek: Letters to Star Trek, Star Trek Speaks! and The Making of Star Trek: The Motion Picture (with Gene Roddenberry).

Another book, Star Trek: The First 25 Years, co-authored with Gene Roddenberry, was purchased by Pocket Books, although not published due to the publisher's legal entanglements. Instead, it became the basis of the 1994 book Star Trek: 'Where No One Has Gone Before': A History in Pictures, by J. M. Dillard. In 1993, Billboard Books published Prime-Time Hits, her third Billboard book, and her book Hollywood Sings! was released in 1995.

In 2002, her autobiography, Inside Trek: My Secret Life with Star Trek Creator Gene Roddenberry was released, detailing her decade-and-a-half-long romantic and intimate involvement with her mentor. In 2013, Amazon published a revised and updated eBook version for Kindle.

She is author of other books also related to the film and television industry, including You Can Be a Game Show Contestant and Win!, co-written with Cheryl Blythe. Following her own advice as outlined in the book, she went on Jeopardy! in 1985 and won $10,000 in cash and prizes.

Ms. Sackett and Ms. Blythe also co-authored Say Goodnight, Gracie!—The Story of Burns and Allen. A revised and updated eBook version for Kindle was released by Amazon in 2016. In 1990, The Hollywood Reporter Book of Box Office Hits was published by Billboard Publications, with an updated and revised version released in 1995.

Ms. Sackett resides in Arizona.