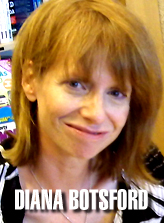 Diana Botsford
In addition to writing, producing and directing for a wide variety of television series and films, Diana Botsford teaches screenwriting as an assistant professor at Missouri State University. She has degrees in Screenwriting & Producing from Boston University and Creative Writing from Seton Hill University. Prior to joining Missouri State University, she spent twelve years in Los Angeles in the television and film industry, followed by five years developing streaming media content and community-driven web sites for Microsoft.

Ms. Botsford's screenwriting credits include Star Trek: The Next Generation, Spiral Zone and a variety of children's series for CBS, NBC and independent networks. As a visual effects director, she has enjoyed the opportunity to play techno junkie while telling people like George Clooney how to stand in front of a green screen. She has produced multiple series for television, such as the CBS series Harts of the West and Nightgames. Her theatrical credits include visual effects directing and supervision for a wide variety of films, including Nightmare of Elm Street VI, Tank Girl, From Dusk Til Dawn, Terminator 2 and many independent films. As associate producer for D.I.C. Enterprises and then later as VP of Family Programming for Kushner-Locke, she produced over 1,000 hours of animation for shows that included Inspector Gadget, Heathcliff, M*A*S*K Force, Spiral Zone and the Columbia/Tristar film Pound Puppies & the Legend of Big Paw. Most recently, Ms. Botsford created and executive-produced the science fiction web series Epilogue, a Missouri State University production. She has also served as executive producer on the Electronic Arts SF short Apollo, which was a recent selection at the Athens (Greece) International Science Fiction Film Festival.

Ms. Botsford's primary writing focus is on science fiction for a variety of media including books, film, television, theatre and comics. In addition to her Stargate: SG-1 novel The Four Dragons (Fandemonium Books, 2010), and its sequel, The Drift (2012), her recently completed written work includes the SF novel Critical Past and the comic book series The Fracture. She is oftentimes a speaker or workshop leader at various writers conferences and science fiction conventions.

Ms. Botsford was a guest of honor at TrekTrax Atlanta in 2011 and previously served as a judge for the Independent Star Trek Fan Film Awards in 2015.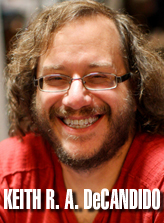 Keith R. A. DeCandido
Keith R. A. DeCandido has written for more than two dozen different licensed universes, including Star Trek (dozens of pieces of fiction, most recently The Klingon Art of War, which debuted at this convention in 2014), Stargate SG-1 (the new novel Kali's Wrath and a short story in Far Horizons), Firefly (the novelization of Serenity and an adventure for the Firefly RPG), Farscape (the "fifth-season" comics published from 2008-2011, written with series creator Rockne S. O'Bannon), Heroes Reborn (Save the Cheerleader, Destroy the World), Sleepy Hollow (Children of the Revolution), Supernatural (Nevermore, Bone Key and Heart of the Dragon), World of Warcraft (Cycle of Hatred), Doctor Who (short stories in Decalog 3: Consequences and Destination Prague), The X-Files (a short story in Trust No One), Marvel Comics (two Spider-Man novels, a bunch of short stories and an upcoming trilogy) and tons more. His original work includes the "Precinct" series of fantasy police procedurals, starting with Dragon Precinct in 2004 and continuing through half a dozen books and short stories; a cycle of urban fantasy short stories taking place in Key West that have appeared in Ragnarok and Roll: Tales of Cassie Zukav Weirdness Magnet, Out of Tune, Bad-Ass Faeries: It's Elemental, Without a License: The Fantastic Worlds of Keith R. A. DeCandido, Buzzy Mag and Story of the Month Club; the Super City Police Department stories and novels (The Case of the Claw and stories in With Great Power and The Side of Good/The Side of Evil); and an upcoming series of urban fantasy novels based in New York City featuring a monster hunter named Bram Gold. In 2009, he received a Lifetime Achievement Award from the International Association of Media Tie-in Writers, which means he never needs to achieve anything ever again. He has been doing rewatches of shows in the Star Trek and Stargate franchises for Tor.com since 2011, as well as the 1966 Batman. Mr. DeCandido is also a freelance editor, a second-degree black belt in karate, a veteran podcaster, a member of the Liars Club, an avid baseball fan and probably some other stuff that he can't remember due to the lack of sleep. Find out less at his cheerfully retro web site at DeCandido.net.

Mr. DeCandido was a guest of honor at TrekTrax Atlanta/Treklanta in 2013, 2014, 2015 and 2016 and previously served as a judge for the Independent Star Trek Fan Film Awards in 2015.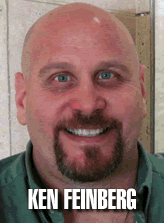 Ken Feinberg
Atlanta native Ken Feinberg earned his degree in filmmaking, directing and writing from the University of Georgia with minors in Drama and Art. For more than ten years, he has directed, written, acted in and produced acclaimed major plays, videos and short films in Los Angeles, New York, Orlando and Atlanta.

After working on both stage and screen in New York, Mr. Feinberg relocated to Los Angeles in the early '90s, where he continued to perform and write as a member of the prestigious Hollywood Repertory Company, Theater Geo and others. It was in the Hollywood Repertory Company that he coauthored and produced the play Real Life Photographs, nominated for a Los Angeles Drama Critics Award. In 1994, he returned to Atlanta, directing the Southeastern premieres of major Broadway award-winning shows: Eric Bogosian's Talk Radio and Ariel Dorfman's Death and the Maiden. Mr. Feinberg directed other acclaimed plays, including the world premieres of many original shows. In 1996, he became the Artistic Director of New Leaf Productions, where he wrote and directed two popular shows: Schampagne and Shtik, a gala toast to Vaudeville, and the musical Willy Wonka and the Chocolate Factory. He continues to write, having had a play published by Yale University Press: Peter and Wendy in Neverland, and his first novel, Basketball and Past Lives, which he's developing into a screenplay.

Returning to Los Angeles in 2001, Mr. Feinberg has directed two other short films and three original theater shows. In 2002, he completed shooting Coming Clean, a twelve-character ensemble romantic comedy which he developed, cowrote and directed. He has appeared in episodes of Buffy the Vampire Slayer, Charmed, Alias and The District, and as the Alien Captain in the second-season Star Trek: Enterprise episode "Horizon."

Once again in Atlanta, Mr. Feinberg is currently the owner and director of Creative Studios of Atlanta, where he continues his love of developing original works that not only entertain, but also enlighten and educate.

Mr. Feinberg was a guest of honor at TrekTrax Atlanta in 2011 and 2013 and joins the Independent Star Trek Fan Film Awards panel of judges for the first time in 2016.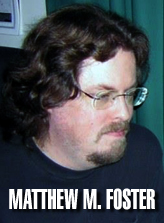 Matthew M. Foster
Matthew M. Foster has been the director of the Dragon Con Independent Film Festival for the last decade, bringing the best in genre short film to Atlanta. Naturally, this has meant fan films where he's encouraged the filmmakers to go beyond fun videos into real art. Through no desire of his own, he's become adept in the legal aspects of fan films and has worked with filmmakers on the reality of operating with intellectual properties held by others. Mr. Foster is a fixture on the con and festival circuit, acting repeatedly as judge, speaker and even the Master of Ceremonies at TromaDance. Recently, he's spoken at the Nebula Award Weekend as part of a course on copyright law for lawyers, and is working on the literary estate of his wife, author Eugie Foster.

Mr. Foster joins the Independent Star Trek Fan Film Awards panel of judges for the first time in 2016.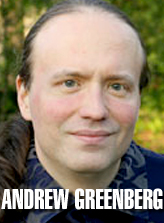 Andrew Greenberg
Best known for designing computer games and roleplaying games, Andrew Greenberg cocreated the Fading Suns roleplaying and computer games and was the original developer of White Wolf's Vampire: The Masquerade. He has credits on more than 50 White Wolf products and more than 20 HDI books. Currently helping develop Kaneva.com's cutting-edge virtual world, Mr. Greenberg has also worked on products with other roleplaying game companies, including Star Trek: The Next Generation and Star Trek: Deep Space Nine. His computer game credits include Dracula Unleashed, Star Trek: Starfleet Academy, Emperor of the Fading Suns, Warhammer 40K: Final Liberation, Merchant Prince II, Mall Tycoon, Dungeon Lords and more. His most recent computer game credit is Railroad Tycoon Mobile and he is currently working on the Global Agenda MMO. Mr. Greenberg regularly writes for publications as diverse as Prick Magazine and the Matthew Bender legal reference series. He is also the organizer of the Southeast Interactive Entertainment and Games Expo (SIEGE).

Mr. Greenberg was a guest of honor at TrekTrax Atlanta in 2011 and 2012 and joins the Independent Star Trek Fan Film Awards panel of judges for the first time in 2016.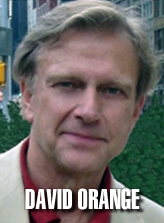 David Orange
David Orange is best known to Star Trek fans as the "Sleepy Klingon" in Star Trek VI: The Undiscovered Country. He has also co-starred in two Broadway plays: Knockout, opposite Oscar nominee Danny Aiello, and Torch Song Trilogy opposite Tony Award Best Actor Harvey Fierstein. In addition, he has done over 300 television commercials, a dozen TV episodic shows and numerous movies of the week and feature films. Having a longtime passion for writing, Orange has published four novels, including the science fiction thriller Mutant Specimen L, the thriller/romance Mine Game and the science fiction suspense thriller The Powder Merchant.

Orange also is a journalist with over 24 published articles to his credit, mostly pertaining to wine and show business celebritity profiles. He divides his time between New York City and southern Florida.

Mr. Orange was a guest of honor at TrekTrax Atlanta in 2012 and joins the Independent Star Trek Fan Film Awards panel of judges for the first time in 2016.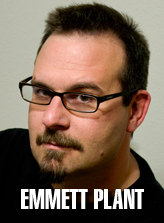 Emmett Plant
Emmett Plant is a writer, composer, sound designer and producer who has produced over twenty Star Trek audiobooks for CBS Studios and served as the audio engineer for How to Speak Klingon, in stores now. As a writer, his work has been featured on Salon, The Wall Street Journal and Gawker Media's io9.com. He has served as a Slashdot Author and the Editor-in-Chief of Linux.com.

In addition to his work on Star Trek that has spanned the last decade, Mr. Plant has composed soundtracks and designed sounds for over fifty video games on many different platforms, including PC, Mac and mobile devices. He currently serves as the creative director for his production company, Clockwork Jetpack. He lives in Arizona.

Mr. Plant was a guest of honor at TrekTrax Atlanta in 2011, 2012 and 2013 and joins the Independent Star Trek Fan Film Awards panel of judges for the first time in 2016.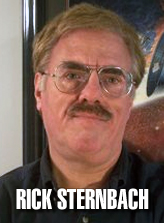 Rick Sternbach
Rick Sternbach has been a space and science fiction artist since the early 1970s, often combining both interests in a project. His clients include NASA, Sky and Telescope, Data Products, Random House, Smithsonian, Analog, Astronomy, The Planetary Society and Time-Life Books. He is a founding member and Fellow of the International Association of Astronomical Artists (IAAA), which was formed in 1981. He has written and illustrated articles on orbital transfer vehicles and interstellar flight for Science Digest. Beginning in the late 1970s, Mr. Sternbach added film and television illustration and special effects to his background, with productions like Star Trek: The Motion Picture, The Last Starfighter, Future Flight and Cosmos, for which he and other members of the art team received an Emmy award, the first for visual effects. Mr. Sternbach also twice received the coveted Hugo Award for best professional science fiction artist, in 1977 and 1978.

With the rebirth of Star Trek, beginning with The Next Generation, Mr. Sternbach was one of the first employees hired to update the Star Trek universe. He created new spacecraft, tricorders, phasers and hundreds of other props and set pieces. Using pencil, pen and computer, Mr. Sternbach added Deep Space Nine and Voyager to his spacecraft inventory, and kept his hand in real space design with Voyager's Ares IV Mars orbiter (blessed by planetary scientist Dr. Bruce Murray).

Mr. Sternbach contributed graphic designs for the Star Trek: Nemesis feature film, including the new Romulan bird of prey and Senate chamber floor. He also provided computer playback graphics and animation elements for Steven Soderbergh's Solaris. He is always working on a variety of freelance projects related to spaceflight and space hardware modeling.

Mr. Sternbach joins the Independent Star Trek Fan Film Awards panel of judges for the first time in 2016.