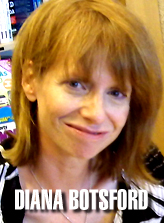 Diana Botsford
In addition to writing, producing and directing for a wide variety of television series and films, Diana Botsford teaches screenwriting as an assistant professor at Missouri State University. She has degrees in Screenwriting & Producing from Boston University and Creative Writing from Seton Hill University. Prior to joining Missouri State University, she spent twelve years in Los Angeles in the television and film industry, followed by five years developing streaming media content and community-driven web sites for Microsoft.

Ms. Botsford's screenwriting credits include Star Trek: The Next Generation, Spiral Zone and a variety of children's series for CBS, NBC and independent networks. As a visual effects director, she has enjoyed the opportunity to play techno junkie while telling people like George Clooney how to stand in front of a green screen. She has produced multiple series for television, such as the CBS series Harts of the West and Nightgames. Her theatrical credits include visual effects directing and supervision for a wide variety of films, including Nightmare of Elm Street VI, Tank Girl, From Dusk Til Dawn, Terminator 2 and many independent films. As associate producer for D.I.C. Enterprises and then later as VP of Family Programming for Kushner-Locke, she produced over 1,000 hours of animation for shows that included Inspector Gadget, Heathcliff, M*A*S*K Force, Spiral Zone and the Columbia/Tristar film Pound Puppies & the Legend of Big Paw. Most recently, Ms. Botsford created and executive-produced the science fiction web series Epilogue, a Missouri State University production. She has also served as executive producer on the Electronic Arts SF short Apollo, which was a recent selection at the Athens (Greece) International Science Fiction Film Festival.

Ms. Botsford's primary writing focus is on science fiction for a variety of media including books, film, television, theatre and comics. In addition to her Stargate: SG-1 novel The Four Dragons (Fandemonium Books, 2010), and its sequel, The Drift (2012), her recently completed written work includes the SF novel Critical Past and the comic book series The Fracture. She is oftentimes a speaker or workshop leader at various writers conferences and science fiction conventions.

Ms. Botsford was a guest of honor at TrekTrax Atlanta in 2011 and previously served as a judge for the Independent Star Trek Fan Film Awards in 2015 and 2016.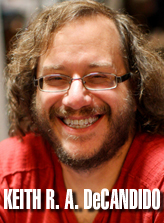 Keith R. A. DeCandido
Keith R. A. DeCandido has written for more than two dozen different licensed universes, including Star Trek (dozens of pieces of fiction, most recently The Klingon Art of War, which debuted at this convention in 2014), Stargate SG-1 (the new novel Kali's Wrath and a short story in Far Horizons), Firefly (the novelization of Serenity and an adventure for the Firefly RPG), Farscape (the "fifth-season" comics published from 2008-2011, written with series creator Rockne S. O'Bannon), Heroes Reborn (Save the Cheerleader, Destroy the World), Sleepy Hollow (Children of the Revolution), Supernatural (Nevermore, Bone Key and Heart of the Dragon), World of Warcraft (Cycle of Hatred), Doctor Who (short stories in Decalog 3: Consequences and Destination Prague), The X-Files (a short story in Trust No One), Marvel Comics (two Spider-Man novels, a bunch of short stories and an upcoming trilogy) and tons more. His original work includes the "Precinct" series of fantasy police procedurals, starting with Dragon Precinct in 2004 and continuing through half a dozen books and short stories; a cycle of urban fantasy short stories taking place in Key West that have appeared in Ragnarok and Roll: Tales of Cassie Zukav Weirdness Magnet, Out of Tune, Bad-Ass Faeries: It's Elemental, Without a License: The Fantastic Worlds of Keith R. A. DeCandido, Buzzy Mag and Story of the Month Club; the Super City Police Department stories and novels (The Case of the Claw and stories in With Great Power and The Side of Good/The Side of Evil); and an upcoming series of urban fantasy novels based in New York City featuring a monster hunter named Bram Gold. In 2009, he received a Lifetime Achievement Award from the International Association of Media Tie-in Writers, which means he never needs to achieve anything ever again. He has been doing rewatches of shows in the Star Trek and Stargate franchises for Tor.com since 2011, as well as the 1966 Batman. Mr. DeCandido is also a freelance editor, a second-degree black belt in karate, a veteran podcaster, a member of the Liars Club, an avid baseball fan and probably some other stuff that he can't remember due to the lack of sleep. Find out less at his cheerfully retro web site at DeCandido.net.

Mr. DeCandido was a guest of honor at TrekTrax Atlanta/Treklanta in 2013, 2014, 2015 and 2016 and previously served as a judge for the Independent Star Trek Fan Film Awards in 2015 and 2016.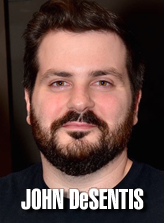 John DeSentis
John DeSentis is a composer and musician who has a deep love and appreciation for the Star Trek series. In recent years, he was responsible for leading an orchestra in the performance of music from Godzilla films (another passion), which was funded via two successful Kickstarter campaigns. These concerts were the culmination of almost a decade of work to attempt to bring the music of composer Akira Ifukube to a live North American setting. Under his record label, Montaro Records, CD recordings of both performances were licensed and released. DeSentis is an avid collector and fan of film music recordings and writes scores for independent film and other related projects.

Mr. DeSentis joins the Independent Star Trek Fan Film Awards panel of judges for the first time in 2017.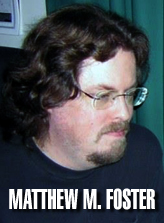 Matthew M. Foster
Matthew M. Foster has been the director of the Dragon Con Independent Film Festival for the last decade, bringing the best in genre short film to Atlanta. Naturally, this has meant fan films where he's encouraged the filmmakers to go beyond fun videos into real art. Through no desire of his own, he's become adept in the legal aspects of fan films and has worked with filmmakers on the reality of operating with intellectual properties held by others. Mr. Foster is a fixture on the con and festival circuit, acting repeatedly as judge, speaker and even the Master of Ceremonies at TromaDance. Recently, he's spoken at the Nebula Award Weekend as part of a course on copyright law for lawyers, and is working on the literary estate of his wife, author Eugie Foster.

Mr. Foster previously served as a judge for the Independent Star Trek Fan Film Awards in 2016.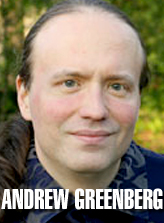 Andrew Greenberg
Best known for designing computer games and roleplaying games, Andrew Greenberg cocreated the Fading Suns roleplaying and computer games and was the original developer of White Wolf's Vampire: The Masquerade. He has credits on more than 50 White Wolf products and more than 20 HDI books. Currently helping develop Kaneva.com's cutting-edge virtual world, Mr. Greenberg has also worked on products with other roleplaying game companies, including Star Trek: The Next Generation and Star Trek: Deep Space Nine. His computer game credits include Dracula Unleashed, Star Trek: Starfleet Academy, Emperor of the Fading Suns, Warhammer 40K: Final Liberation, Merchant Prince II, Mall Tycoon, Dungeon Lords and more. His most recent computer game credit is Railroad Tycoon Mobile and he is currently working on the Global Agenda MMO. Mr. Greenberg regularly writes for publications as diverse as Prick Magazine and the Matthew Bender legal reference series. He is also the organizer of the Southeast Interactive Entertainment and Games Expo (SIEGE).

Mr. Greenberg was a guest of honor at TrekTrax Atlanta in 2011 and 2012 and previously served as a judge for the Independent Star Trek Fan Film Awards in 2016.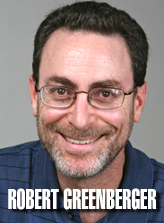 Robert Greenberger
Robert Greenberger is a writer and editor. A lifelong fan of comic books, comic strips, science fiction and Star Trek, he drifted towards writing and editing, encouraged by his father and inspired by Superman's alter ego, Clark Kent. He is the sole author of four Star Trek paperback novels (The Romulan Stratagem, Doors into Chaos, A Time to Love, A Time to Hate) and the coauthor, with Michael Jan Friedman, Peter David and/or Carmen Carter, of three more (Doomsday World, The Disinherited, Wrath of the Prophets). He is also the author of ten additional Star Trek short stories and novellas published in various paperback anthologies and the coauthor, with Michael Jan Friedman, of Q's Guide to the Universe, a Star Trek reference book. Mr. Greenberger wrote the script for DC Comics' Star Trek #28 (1986) and served as editor of the monthly series for three years.

While at the State University of New York at Binghamton, Mr. Greenberger wrote and edited for the college newspaper, Pipe Dream. Upon graduation, he worked for Starlog Press and while there, created Comics Scene, the first nationally distributed magazine to focus on comic books, comic strips and animation. In 1984, he joined DC Comics as an assistant editor and went on to be an editor before moving to administration as Manager–Editorial Operations. He joined Gist Communications as a producer before moving to Marvel Comics as its Director–Publishing Operations.

Mr. Greenberger rejoined DC in 2002 as a Senior Editor–Collected Editions. He helped grow that department, introducing new formats and improving the editions' editorial content. He also managed DC's ElfQuest publishing program. In 2006, he joined Weekly World News as its managing editor until the paper's untimely demise. He then freelanced for an extensive client base including Platinum Studios, scifi.com, DC and Marvel. He helped revitalize Famous Monsters of Filmland and served as news editor at ComicMix.

Mr. Greenberger is a member of the Science Fiction Writers of America and the International Association of Media Tie-In Writers. His novelization of Hellboy II: The Golden Army won the Scribe Award in 2009. In 2012, he received his Master of Science in Education degree from the University of Bridgeport (Connecticut) and relocated to Maryland, where he currently teaches high school English and creative writing in Baltimore County.

With others, he cofounded Crazy 8 Press, a digital press hub where he continues to write. He and his wife Deborah reside in Howard County (Maryland).

Mr. Greenberger joins the Independent Star Trek Fan Film Awards panel of judges for the first time in 2017.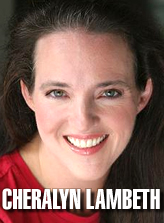 Cheralyn Lambeth
Cheralyn Lambeth likes to refer to herself as a "movie fan who went pro," crediting her work in the film/TV/entertainment industry to her early love of Star Wars. After a brief stint in the Air Force Reserve, she went on to study drama and Radio/Television/Motion Pictures (Mass Communications) at the University of North Carolina–Chapel Hill. Shortly after graduation, Ms. Lambeth relocated to New York to study at The Juilliard School, working on both academic and professional productions such as performing Off-Broadway with John Leguizamo on his one-man show, Mambo Mouth. She then moved to Minneapolis to create Muppet costumes for Sesame Street Live!, a large purple bunny for the film The Net and costumes for the SuperBowl XXVI Halftime Show, and returned to New York a year later to work with Jim Henson Productions on the TV series Dinosaurs! and the film The Muppet Christmas

Carol

.



After her time at Henson,

Ms. Lambeth

worked with Paramount Production Services, creating costumes and props for Paramount properties such as the Star Trek Earth Tour, Titanic: The Movie on Tour and Star Trek: The Experience at the Las Vegas Hilton. Some of her other credits include work (both behind and in front of the camera) on The Patriot, The New World, Evan Almighty, Leatherheads, The Hunger Games and Max, as well as costuming work on the National Park Service film Manassas: End of

Innocence

. Her most recent work includes the Showtime television series Homeland and the Cinemax series Outcast, as well as ongoing work on Charlotte (North Carolina)-area sports mascots such as Hugo for the Charlotte Hornets (NBA) and Sir Purr of the Carolina Panthers (NFL).



On the hobby side of things,

Ms. Lambeth

is proud to be an active and longtime member of the international Star Wars costuming club the 501st Legion, serving as Legion Historian/Archivist, and as a former member of the Legion's Public Relations team. In addition, she performs as a pirate re-enactor with The Shadow Players Stage Combat Group, demonstrating choreographed stage combat and speaking about the history of weapons at festivals, school activities and other community events all along the eastern seaboard.

Most recently,

Ms. Lambeth

has been expanding her writing career, combining her interest in paranormal research with her theatrical background to produce her first book, Haunted Theaters of the Carolinas (

Schiffer Publishing),

in 2009. Her second book, The Well-Dressed Puppet: A Guide to Creating Puppet Costumes (Routledge/Taylor & Francis, 2015) focuses on her creative work. Her book on costumes/cosplay, Creating the Character Costume: Tools, Tips and Talks with Top Costumers and Cosplayers, was released by Focal Press in December 2016. She has also written regularly for

Examiner.com

as the Charlotte Paranormal Examiner and the

Charlotte Sci-Fi Examiner, and is currently working on Ghosts of Greater Charlotte.

Ms. Lambeth joins the Independent Star Trek Fan Film Awards panel of judges for the first time in 2017.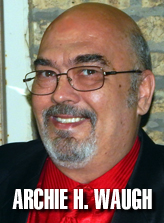 Archie H. Waugh
Archie H. Waugh has been active in the fan scene for four decades. An award-winning actor, director, filmmaker and graphic designer, he credits Star Trek and Lost in Space with inspiring his interest in the performing and visual arts. With a background as an actor and director in a wide variety of stage productions from the musical Chicago to the classic vampire thriller Dracula, his work making fan films in the 1980s led to a professional career as a television director in the 1990s. A fixture at conventions for three decades, he has hosted many panels and performed on stage with several Star Trek and Star Trek: The Next Generation actors.

As a film music and Godzilla enthusiast, Mr. Waugh recently helped spearhead successful Kickstarter campaigns for the production of two live symphonic concerts in Chicago of the music of Akira Ifukube and Kow Otani for Japanese monster and sci-fi films, designing all the promotional art for the concerts and their subsequent CD release packaging.

A longtime film history buff with a special interest in silent films, Mr. Waugh is currently assisting in the restoration of a 1918 Colleen Moore film for the Library of Congress. He resides in the Tampa Bay area of Florida, where he raises champion toy poodles and tends his garden of rare exotic tropical plants.

Mr. Waugh joins the Independent Star Trek Fan Film Awards panel of judges for the first time in 2017.