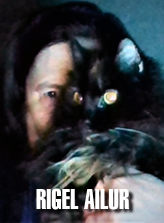 Rigel Ailur
Rigel Ailur has published thirteen novels and novellas in numerous genres ranging from science fiction to romance, from fantasy to mystery. Her work often crosses genres and includes several ongoing series such as The Tales of Mimion, The Vagabonds' Adventures and The Patel Family Chronicles.

Ms. Ailur's recent titles include the thriller Trillionaire, and Ahoy!, the second anthology of her pirates stories that span the ages and the globe—and beyond. In A Little Piece of Home, set thousands of years in the future, an intergalactic worldship embarks on a voyage spearheading a new age of exploration. And in The Last Abbot of Lin Duachaill, she and cowriter Michelle Markey Butler explore betrayal and conflict between cultures over a thousand years in the past.

The author of over sixty short stories, Ms. Ailur wrote for the Star Trek anthology Strange New Worlds 10 and for the Shadowrun sourcebook Seattle 2072. Her online fiction includes "Azencer," a Mimion supershort piece of flash fiction at Daily Science Fiction, and "Deadly Hauntings" at Story Portals.

Ms. Ailur earned her degree in Journalism and German after which she worked as a technical writer and technical translator. She also wrote for corporate newspapers and magazines. She chairs the annual Scribes Awards for the International Association of Media Tie-In Writers, where she's a longtime member. She worked backstage at a local theater, which added authenticity to her romantic suspense novel, Masquerade.

Ms. Ailur previously served as a judge for the Bjo Awards in 2018.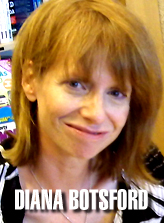 Diana Botsford
In addition to writing, producing and directing for a wide variety of television series and films, Diana Botsford teaches screenwriting as an assistant professor at Missouri State University. She has degrees in Screenwriting & Producing from Boston University and Creative Writing from Seton Hill University. Prior to joining Missouri State University, she spent twelve years in Los Angeles in the television and film industry, followed by five years developing streaming media content and community-driven web sites for Microsoft.

Ms. Botsford's screenwriting credits include Star Trek: The Next Generation, Spiral Zone and a variety of children's series for CBS, NBC and independent networks. As a visual effects director, she has enjoyed the opportunity to play techno junkie while telling people like George Clooney how to stand in front of a green screen. She has produced multiple series for television, such as the CBS series Harts of the West and Nightgames. Her theatrical credits include visual effects directing and supervision for a wide variety of films, including Nightmare of Elm Street VI, Tank Girl, From Dusk Til Dawn, Terminator 2 and many independent films. As associate producer for D.I.C. Enterprises and then later as VP of Family Programming for Kushner-Locke, she produced over 1,000 hours of animation for shows that included Inspector Gadget, Heathcliff, M*A*S*K Force, Spiral Zone and the Columbia/Tristar film Pound Puppies & the Legend of Big Paw. Most recently, Ms. Botsford created and executive-produced the science fiction web series Epilogue, a Missouri State University production. She has also served as executive producer on the Electronic Arts SF short Apollo, which was a recent selection at the Athens (Greece) International Science Fiction Film Festival.

Ms. Botsford's primary writing focus is on science fiction for a variety of media including books, film, television, theatre and comics. In addition to her Stargate: SG-1 novel The Four Dragons (Fandemonium Books, 2010), and its sequel, The Drift (2012), her recently completed written work includes the SF novel Critical Past and the comic book series The Fracture. She is oftentimes a speaker or workshop leader at various writers conferences and science fiction conventions.

Ms. Botsford was a guest of honor at TrekTrax Atlanta in 2011 and previously served as a judge for the Bjo Awards in 2015, 2016, 2017 and 2018.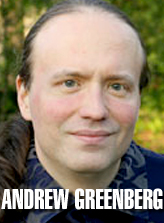 Andrew Greenberg
Best known for designing computer games and roleplaying games, Andrew Greenberg cocreated the Fading Suns roleplaying and computer games and was the original developer of White Wolf's Vampire: The Masquerade. He has credits on more than 50 White Wolf products and more than 20 HDI books. Currently helping develop Kaneva.com's cutting-edge virtual world, Mr. Greenberg has also worked on products with other roleplaying game companies, including Star Trek: The Next Generation and Star Trek: Deep Space Nine. His computer game credits include Dracula Unleashed, Star Trek: Starfleet Academy, Emperor of the Fading Suns, Warhammer 40K: Final Liberation, Merchant Prince II, Mall Tycoon, Dungeon Lords and more. His most recent computer game credit is Railroad Tycoon Mobile and he is currently working on the Global Agenda MMO. Mr. Greenberg regularly writes for publications as diverse as Prick Magazine and the Matthew Bender legal reference series. He is also the organizer of the Southeast Interactive Entertainment and Games Expo (SIEGE).

Mr. Greenberg was a guest of honor at TrekTrax Atlanta in 2011 and 2012 and previously served as a judge for the Bjo Awards in 2016, 2017 and 2018.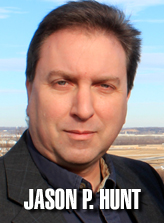 Jason P. Hunt
Jason P. Hunt is the publisher and editor-in-chief of SciFi4Me, a multichannel platform covering science fiction, fantasy and horror genres with news articles, interviews, reviews, original programming and live event broadcasts. He is the author of the novella The Hero at the End of His Rope and producer of several short films, including Species Felis Dominarus, which was a finalist in the Sci-Fi Channel's 2007 Exposure contest.

Mr. Hunt joins the panel of judges for the Bjo Awards for the first time this year.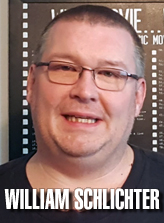 William Schlichter
William Schlichter is an award-winning screenwriter and author specializing in science fiction and the phantasmagorical world of the undead. His popular No Room in Hell and Silver Dragon Chronicles series are fan favorites, and his full-length feature script, Incinta, is a 2014 New Orleans Horror Film Festival finalist, a 2015 Beverly Hills Film Festival finalist and an Official Selected finalist in the 2016 Irvine Film Festival.

Mr. Schlichter joins the panel of judges for the Bjo Awards for the first time this year.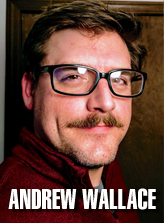 Andrew Wallace
Andrew Wallace is a film buff and walking Memory Alpha of Star Trek lore knowledge. He also has a keen eye for editing as well as geek podcasting as co-host of two rather geeky podcasts, The Geek Book Club and The Brosephs, on YouTube. He has a serious passion for Star Trek as well as the philosophies behind the franchise. Star Trek has shaped his life and helped him to discover his passion for film, digital effects and storytelling.

Mr. Wallace joins the panel of judges for the Bjo Awards for the first time this year.