Board of Directors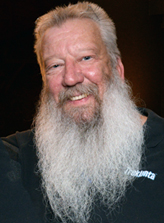 Eric L. Watts
Founder & Chairman
Senior Director of Programming

Eric L. Watts has been active in Star Trek fandom for more than forty years and is one of the most well-known Star Trek fans in the southeast. He brings a wealth of convention-running experience, fan club management and insider knowledge to the Treklanta board of directors.

Mr. Watts started watching Star Trek in the early 1970s, attended his first Star Trek convention in 1978 and founded a Star Trek fan club, The United Federation of Trekkers, in Columbia, South Carolina, in 1980. During his presidency, the UFT became the state's largest Star Trek fan club with more than 100 members. He served as president and newsletter editor for eight years and was frequently interviewed by the local media during the heyday of the first four Star Trek motion pictures, including an episode of PM Magazine on WIS-TV in 1982.

In 1992, Mr. Watts joined Dragon*Con as a programming director to create a new track of programming devoted exclusively to Star Trek. "TrekTrak" debuted in 1993 and over the next 17 years became one of Dragon*Con's largest, highest-profile and most widely acclaimed programming tracks. In 2002, Mayor Shirley Franklin proclaimed September 2 of that year as "TrekTrak Day" in the City of Atlanta. His signature event, the Miss Klingon Empire Beauty Pageant, was one of America Online's "Top 11 Most Offbeat Beauty Pageants" for two consecutive years and has been featured in Shock, Spin, Discover, Maxim and Bizarre magazines, on the syndicated TMZ television program, and on the Fox News, Today Show and many other web sites.

In 2006, Mr. Watts was elected Commanding Officer of the USS Republic NCC-1371, the STARFLEET International chapter in Atlanta. The Republic had less than 10 members when he was elected but by the end of 2009, the membership roster had grown to more than 100 members and the Republic was the largest STARFLEET chapter in the world. In 2007, Mr. Watts won the prestigious STARFLEET International Commanding Officer of the Year Award and over the last thirteen years, he has won more than twenty Region 2 awards in newsletter, web site, member recruitment, mothership and administrative categories. The Republic was featured on the front cover of the April 2010 issue of the STARFLEET International newsletter, The Communiqué, in recognition of its extraordinary growth during the previous three years. Treklanta hosted STARFLEET Region 2's annual Summit in 2019. Mr. Watts currently holds the rank of Rear Admiral in STARFLEET.

Mr. Watts was interviewed live on CNN Today on CNN International in 2006, was featured in the Emmy Award-winning documentary Four Days at Dragon*Con in 2010 and has appeared as a featured guest in segments on CBS 46's Atlanta Plugged In in 2016 and Public Affairs on Peach in 2019. He has also been a featured guest on two podcasts, including two episodes of Troy Bernier's Tribbles and Trilobites podcast, originally broadcast on July 16 and July 24, 2016; a special two-part episode of The NerdBliss Podcast, originally broadcast on June 9 and June 16, 2017; and again on October 12, 2019.

Mr. Watts served as a production assistant on the set of Star Trek: New Voyages for the episode "World Enough and Time" starring George Takei in 2006. He played Korgoth, the Klingon bartender, in the Project: Potemkin vignettes "Closing Time" in 2013, "Ladies Night Out" in 2014 and "Room Service" in 2015; and a dancing Klingon in the "We Are Klingon" music video on YouTube, released in 2013. He also played a nonspeaking Starfleet officer in the Dreadnought Dominion episode "Technical Difficulties," a Star Trek fan film, in 2019. Mr. Watts also played an alien and a Southern redneck in "Ouroborus," an unreleased episode of the fan film series Doctor Who: The Forgotten Doctor.

As a voice actor, Mr. Watts plays the Vulcan police officer Agent Samar and an alien Allu Commander, both in the first season of the Star Trek fan audio series Chronicle, to premiere in January 2020. In addition, he voiced several unidentified roles in the upcoming Star Trek fan film, The Romulan War, also due for release in 2020. Mr. Watts also played a rebel Klingon commander in "Klingon Honor," an unreleased episode of the fan audio series Star Trek: Valkyrie.

Mr. Watts is an occasional guest and frequent panelist at other fan conventions around Atlanta, including TimeGate, OutlantaCon, Sci-Fi Summer Con and the Atlanta Sci-Fi & Fantasy Expo.

Mr. Watts is a two-time honors graduate of The Art Institute of Atlanta with Associate in Arts degrees in Visual Communications and Web Site Design & Administration. His voice talent and entertainment business web site is Watts Vox Creative Voice Talent & Vocal Entertainment.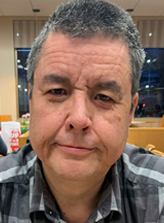 Andy Fairbanks
Director of Technical Operations

Andy Fairbanks is from Charlotte, North Carolina, where he has performed several stand-up sets at various talent shows, namely The Geek Gala and some open mic shows. On a recent trip to Tokyo, Japan, he performed at a couple of open mic shows in English.

Fairbanks is a lifelong Star Trek fan who started watching in the early 1970s when Star Trek was in syndication. In addition to performing in this year's Star Trek Stand-Up Comedy Show, he will also be co-hosting this year's Klingon Karaoke as one-half of the Keela & Katkith Karaoke show. And as if that isn't enough, Fairbanks also joins the Treklanta team this year as our Director of Technical Operations.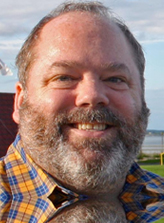 Kelly Hilliard
Director of Guest Transportation

Kelly Hilliard has been a Star Trek fan and member of STARFLEET International (SFI) for more than thirty years and has served aboard the USS Republic NCC-1371 in Atlanta for most of them, from 1988 to 2006 and again since 2013, including four years as Commanding Officer (1992-96). From 2007 to 2012, he was a member of the USS Atlanta NCC-79434, an offshoot chapter of the Republic. After six years, the Atlanta and the Republic reunited as a single ship. During Admiral Hilliard's three decades of SFI membership, he has also served as Region 2 Zone 2 Coordinator (1992-94), Region 2 Vice Regional Coordinator (1995) and Region 2 Regional Coordinator (1995-99). Additionally, he served as chairman of the SFI International Conference, hosted by Dragon*Con, in 1995, then created the Region 2 Summit, for which he served as chairman for the first five years, from 1996 through 2000. He received the Region 2 Member of the Year award in 1994 and the USS Republic's prestigious Member of the Year award in 2014.

Outside of STARFLEET, Admiral Hilliard helped establish Starfleet Atlanta and Trek Atlanta (networks of local fan clubs) in the early 1990s and has served on panels at the Atlanta Fantasy Fair, Dixie-Trek, Dragon*Con and Treklanta. He previously served Treklanta as a volunteer on our Guest Transportation & Services staff in 2013 and Gaming staff in 2015. He returned to the Treklanta team as Director of Transportation in 2019.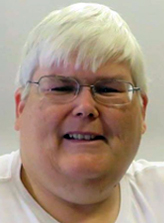 Mike Henigan
Director of Guest Services

Mike Henigan has been a Star Trek and science fiction fan since 1966 and a member of STARFLEET International (SFI) for over 30 years. He has served as a charter member of several ships in Maine and Georgia and on both Regional and SFI staffs. He has also served on staff and as a panel speaker at science fiction and Star Trek conventions in the East, South and Midwest and now serves as a Director at WHOlanta, MomoCon, CONjuration and Treklanta.

Admiral Henigan has served aboard the USS Republic NCC-1371 in Atlanta twice over the course of the last twenty-five years, from 1995 to 2006 and again since 2013, including one year as Commanding Officer (1998). From 2007 to 2012, he was the Commanding Officer of the USS Atlanta NCC-79434, an offshoot chapter of the Republic. After six years, the Atlanta and the Republic reunited as a single ship and Admiral Henigan served as Executive Officer for the next four years (2013-16). During that time, he also served as SFI Region 2 Shakedown Operations Director for many years. In 2013, he received the USS Republic's prestigious Member of the Year award.

Admiral Henigan is passionate about working within the local community and is a staff volunteer at the Intown Food Pantry. He works there most every Saturday and runs many food drives and auctions to raise both food and funds for the pantry.

Admiral Henigan previously served Treklanta as Gaming Room Director from 2011 to 2017, Charity Auction Director in 2019 and beginning in 2020, Director of Guest Services.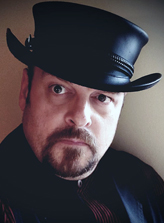 Jonathan Sarge
Director of Security

Jonathan Sarge currently serves at the security training manager for a government agency in the Atlanta area. He has over 25 years' experience as a law enforcement and security professional, including service as a deputy sheriff, criminal investigator, firearms instructor and counterintelligence agent for the Air Force Office of Special Investigation. He is also veteran of the United States Army, serving as a military police officer in the Global War on Terror.

Mr. Sarge is a resident of the area and a lifelong Star Trek fan that enjoys volunteering for fan conventions and filming projects in the area. He joined the Treklanta team in 2019 as Director of Guest Services and takes over as Director of Security in 2020.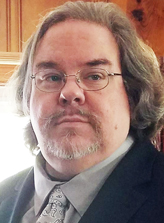 Chris Jones
Director of Featured Programming Track Operations

Chris Jones was born an "Air Force brat" at Myrtle Beach Air Force Base in Myrtle Beach, South Carolina. He has been a Star Trek fan since the late '70s, having enjoyed both the original series and the animated series as a kid in Warner Robins, Georgia (living that Air Force family life). In celebration of his love for Star Trek and other science fiction and fantasy stories, Mr. Jones created The NerdBliss Podcast in March 2017. The NerdBliss Podcast now has over 100 episodes and is still going strong.

Mr. Jones joined Treklanta as Director of Featured Programming (formerly "Auxiliary Programming") Track Operations in 2018. If you have any questions or needs regarding Featured Programming, please do not hesitate to reach out to him!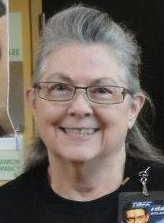 Vicki Greve
Director of Volunteers

Vicki Greve was 14 in 1966 when she first viewed Captain Kirk, Mr. Spock and Dr. McCoy on the original Star Trek TV series and heard William Shatner utter, "Space... the final frontier. These are the voyages of the starship Enterprise. Its five-year mission: to explore strange new worlds, to seek out new life and new civilizations, to boldly go where no man has gone before." Since then, she has enjoyed every incarnation of Star Trek that's been on regular television. Her love of Star Trek led to other likes of most things space, including NASA, and sci-fi, including Doctor Who, Battlestar Galactica, Firefly and The Orville.

Mrs. Greve and her husband Gaylen enjoy attending conventions and have volunteered at every Treklanta in its ten-year history. She's a member of the USS Republic NCC-1371, the Klingon Assault Group (KAG), and is affiliated with the Klingon ship Predator, where she holds the position of Medical Officer and given the honorific of vestai. Mrs. Greve has also volunteered in the Brittrack at Dragon*Con and been on several panels.

After serving Treklanta as a volunteer in Security for a couple of years, Mrs. Greve was appointed Director of Security for the 2019 convention. For the 2020 convention, she has been appointed Director of Volunteers, a brand new department within the Treklanta organization.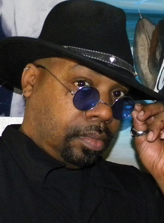 Dimitri Walker
Director of Artists Alley

Born and raised in Atlanta, Dimitri Walker is a simple artist at heart. Brush, paint and canvas are his tools. He has been a portrait artist since 1983, primarily graphite (pencil). In 1994, Mr. Walker began to paint with oils and acrylics. He also took a job picture framing to be near the art world. He continued to learn and became a Master Certified Framer. In 2005, at 40 years old, Mr. Walker went to college and earned a Bachelors of Fine Art. In the spring of 2012, while teaching a drawing class at a local art gallery, a student/friend who took his class to learn to draw the TARDIS better, said to him, "Dimitri, I know you watch and love all the same shows and movies I do. Supernatural, Star Trek, Doctor Who, Star Wars, Firefly and all the comic book movies. I have been to your web site. Why don't you have any Fan Art?" Mr. Walker replied, "What's 'Fan Art'?"

And the rest is history.

Mr. Walker was a Guest Artist at Treklanta in 2015 and 2016 and joined the convention as Director of Artists Alley in 2017. Visit his web site at Paintings by Dimitri Walker.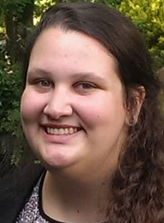 Jenilee Trew
Director of Gaming

Jenilee Trew is a healthcare analyst in Atlanta with a passion for all things science fiction. She is a member of the USS Republic NCC-1371 and an avid gamer who has previously served as a gaming staff volunteer at Treklanta.

Ms. Trew joined Treklanta as Director of Gaming in 2019.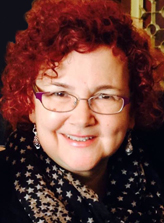 Cindy MacLeod
Director of Dealer Relations

Cindy MacLeod is one of three co-founders of AnachroCon, the very successful alternate history (a.k.a. "steampunk") convention launched in Atlanta in 2009, and currently serves as their Director of Vendor Relations. She was also one of the creators of Dragon*Con's Alternate History Track, and served as the Track Director from 2009 to 2011. Mrs. MacLeod's published works include one full-length novel, Some Unforeseen Event, and two steampunk-based short stories, "The Big Golden Apple" and "The Clockwork Cockroaches of Thelema," published in Dreams of Steam 2: Of Bolts and Brass and Dreams of Steam 4: Gizmos, respectively.

Mrs. MacLeod is an accomplished cosplayer with unparalleled taste in cosplay fashion. She has fond memories of watching the original Star Trek series on a black-and-white console TV in the late 1960s and cosplaying Star Trek before she was even in kindergarten.

Mrs. MacLeod joined Treklanta as Director of Dealer Relations in 2017.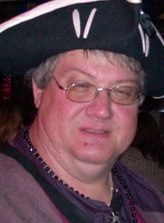 Jay Cannon
Con Suite Director

Jay Cannon first joined Treklanta as Con Suite Director in 2012 and served until 2017. After a two-year absence, Treklanta is pleased to welcome Mr. Cannon and his extraordinary crew back in 2020.