Author Guest of Honor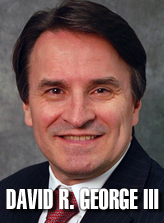 David R. George III
David R. George III is The New York Times and USA Today bestselling author who co-wrote the first-season Star Trek: Voyager episode "Prime Factors" and the author of 18 Star Trek novels and 18 articles for Star Trek Magazine.

George's Star Trek novels include Original Sin, The Long Mirage, Ascendance, Sacraments of Fire, One Constant Star, Revelation and Dust, Allegiance in Exile, Raise the Dawn, Plagues of Night, Rough Beasts of Empire, The Embrace of Cold Architects, The Star to Every Wandering, The Fire and the Rose, Provenance of Shadows, Olympus Descending, Serpents Among the Ruins, Twilight and The 34th Rule.

His articles for Star Trek Magazine include "Star Trek 45s: 'Fight or Flight,'" "Do You Believe in Miracles?," "The Ultimate Guide: Deep Space Nine, Season 7," "Who Is... Christopher Pike?," "Who Is... Scotty?," "Who Is... Chekov?," "Resurrecting Okona," "Who Is... Doctor McCoy?," "Who Is... Sulu?," "Who Is... Jim Kirk?," "Life from Lifelessness," "Condemned for a Villain: Winn Adami," "Trek Lit Villains: Colonel Mitra," "Trek Lit Villains: Aventeer Vokar," "The Voice of the Hidden Waterfall," "Cowboys and Diplomats," "All the Galaxy's a Stage" and "Of Ice and Moonlight."

George's non-Trek work includes the novelettes "Moon Over Luna," "The Instruments of Vice" and "The Dark Arts Come to Hebron," all available as e-books on Amazon.com.

Born and raised in New York City, George and his wife Karen now reside in Atlanta, Georgia. Visit his web site at DRGIII.com.
Fan Guest of Honor
Dan Toole
Dan Toole is the Commander, STARFLEET (and corporate president) of STARFLEET International, the largest Star Trek fan club in the world with more than five thousand members and a nonprofit corporation legally registered in the state of North Carolina.

Like so many others, Mr. Toole started his love of Star Trek by watching original series episodes with his dad. He said, "I remember when my Mom got him the VHS of the original pilot 'The Cage,' we watched that together and I wanted to see more." It was when Star Trek: The Next Generation came out that he started truly "fanboying." "We saw all of them, even skipped school for the movies. We went to every convention in the area, but sadly, interest in the area waned and all the cons stopped." Mr. Toole continued watching all the series through reruns at first, then DVDs, then finally, the streaming services. He found STARFLEET International a few years ago in an unusual place: "I was reading an article from CNN about unusual scholarships, that's where I found STARFLEET." He joined a local chapter and a few years later was elected as Vice-Commander, STARFLEET. When the previous Commander, STARFLEET had to step down for health reasons, Mr. Toole had to fill the shoes. When asked, he said, "Well at least I won't have to buy any more rank pips. Now, let's get to work!"

As the official host of the 2019 Region 2 Summit, Treklanta is pleased to welcome the Commander, STARFLEET to Atlanta. Fleet Admiral Toole is also the commanding officer of the USS Sinclair NCC-74209 in Berkley, Michigan.
Featured Guests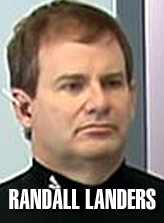 Randall Landers
Randall Landers plays Commander Brian Reigert in Project: Potemkin. Set shortly after Star Trek: The Undiscovered Country, Project: Potemkin is a fan film series that takes place in 2296 aboard the USS Potemkin, an uprated Constitution III class starship (such as the USS Enterprise, NCC-1701-A).

The creator and executive producer of Project: Potemkin called Mableton, Georgia, his home town until he went off to Emory University in Atlanta. Graduating with a B.A. in Liberal Studies, Landers began working at Kinko's, a nationwide copy center, in 1980. In 1983, he became the manager of the Georgia Tech Library Copy Service which at that time was managed by Kinko's. In 1986, he and his longtime girlfriend Linda Marcusky moved to Albany, Georgia. Not finding a copy center to work for, Landers turned to teaching and taught Science to 6th graders in nearby Sylvester, Georgia. With the birth of his third child in 1994, Landers retired from teaching and opened Fast Copy, Albany's first copy center. In 2013, Landers sold Fast Copy and started his own video services company, Stellar Video Services, which produces corporate-level videos and commercials and provides other business-related video services. Landers has also been the publisher and editor-in-chief of Orion Press, which has published hundreds of fanzines over the years.

Landers appears in "The Old Guys" and "Care for a Lift?" as the thoroughly unlikeable Brian Reigert.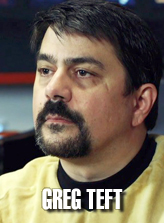 Greg Teft
Greg Teft plays Captain Nuno DaSilva in Starship Republic, "a Star Trek fan film project aimed at recapturing the excitement and morality of Gene Roddenberry's original vision." Starship Republic returns him to acting after 30 years with his first Star Trek fan film. As a child, Star Trek and other science fiction inspired his initial interest in technical drawing and early jobs as a draftsman at the Electric Boat and Bath Iron Works shipyards. Advances in computing technology eventually led him to his current career in computer science and information technology. Theatrically, Teft participated behind the scenes with his high school drama club in his hometown on the Connecticut shoreline. In the fall of 1986, he starred as Tom in The Glass Menagerie at Eastern Connecticut State University and has been longing to perform again ever since. His love of science fiction and military technology has also been an inspiration for a lifelong hobby in scale model building as well.

Teft resides in Maine with his wife, son, family and four cats and two dogs. Teft's wife Susan is also a lifelong Star Trek fan and will be participating in Starship Republic with him, creating some needed props.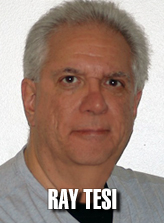 Ray Tesi
Ray Tesi heads Starship Republic, "a Star Trek fan film project aimed at recapturing the excitement and morality of Gene Roddenberry's original vision," and is the new owner of Stage 9 Studios, the recreation of the original Star Trek sets in Kingsland, Georgia, built and originally used by Starship Farragut and later by Star Trek Continues to film their series.

Tesi has been a lifelong Star Trek fan since watching the premiere on September 8, 1966, and the philosophy of Star Trek has permeated his view on life. In 1972, he and a group of friends went to what would become the first annual Star Trek convention in Manhattan. At that con, Tesi had the opportunity to meet and talk to Gene and Majel Roddenberry, and shared an elevator with Isaac Asimov. How many people can say that?

Through it all, Tesi has had the love of television and film. He has been an amateur writer for the better part of 35 years and an amateur filmmaker since long before that. When the opportunity arose to create an original Star Trek fan film production at Starbase Studios, he jumped at the chance. He has assembled a fantastic cast and crew in front of and behind the camera, and hopes that Star Trek fans everywhere will enjoy what he and his team are creating.
Guest Performers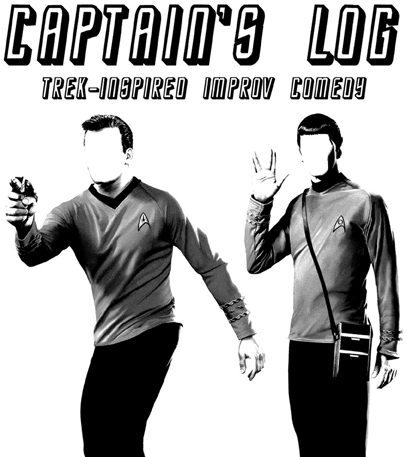 Captain's Log
Captain's Log is an improv comedy group that performs the first Friday of each month at the Village Theatre in Atlanta. The cast includes Syl Turner, Josh Warren, Cory Di Mino, Kevin Goreham, Tom Bastek, Elliot Goff and Erica Anthony. Most of the crew are big fans of sci-fi, but some have never seen an episode of Star Trek. It's a sci-fi mishmash hodgepodge of galactic proportions.

Captain's Log first performed at Treklanta in 2016 and we are pleased them back for a return engagement in 2019!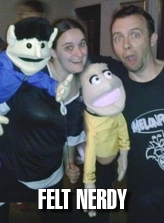 Felt Nerdy
Felt Nerdy is the Atlanta-based husband and wife puppetry performance team of Veronica and Charles Bramlett. Their Star Trek and science fiction-themed puppet shows have consistently been one of the most popular events at Treklanta since 2014, and we are pleased to welcome them back for another highly entertaining show in 2019.
Guest Comedians
Guest Artists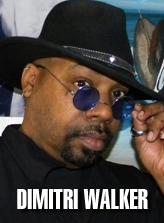 Dimitri Walker
Born and raised in Atlanta,
Dimitri Walker
is a simple artist at heart. Brush, paint and canvas are his tools. He has been a portrait artist since 1983, primarily graphite (pencil). In 1994, Walker began to paint with oils and acrylics. He also took a job picture framing to be near the art world. He continued to learn and became a Master Certified Framer. In 2005, at 40 years old, Walker went to college and earned a Bachelors of Fine Art. In the spring of 2012, while teaching a drawing class at a local art gallery, a student/friend who took his class to learn to draw the TARDIS better, said to him, "Dimitri, I know you watch and love all the same shows and movies I do.
Supernatural
,
Star Trek
,
Doctor Who
,
Star Wars
,
Firefly
and all the comic book movies. I have been to your web site. Why don't you have any Fan Art?" Walker replied, "What's 'Fan Art'?"
And the rest is history.
Treklanta is pleased to welcome Dimitri Walker back to our fifth Artists Alley in 2019. Visit his web site at
Paintings by Dimitri Walker
.