Special Guest of Honor

Suzie Plakson
Suzie Plakson is an American actress who has played four different roles in three Star Trek spinoff series, including Doctor Selar in Star Trek: The Next Generation ("The Schizoid Man"), Ambassador K'Ehleyr, also in The Next Generation ("The Emissary," "Reunion" and "Firstborn"), the Lady Q in Star Trek: Voyager ("The Q and the Grey") and Tarah in Star Trek: Enterprise ("Cease Fire").

Plakson also provided the voice of Monica Devertebrae on the 1991-1995 TV series Dinosaurs, appeared on the 1992-1995 TV series Love & War in the role of Meg Tynan, and also appeared in the films Disclosure, Wag the Dog, On Edge and Red Eye. She also had a recurring guest role on Mad About You as Dr. Joan Golfinos. More recently, she's appeared in a recurring role as Marshall's mother on How I Met Your Mother.

Plakson was the keynote speaker during the closing ceremonies of Star Trek: The Experience in Las Vegas in September 2008.
Guest of Honor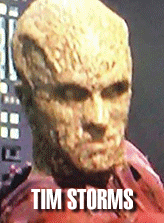 Tim Storms
Tim Storms is an actor, director, writer and martial artist who played a Suliban warrior in the Star Trek: Enterprise episodes "Shockwave" and "Future Tense" and a Vulcan commando in the Star Trek: Enterprise episode "Kir'Shara." He was also a stunt performer in the Star Trek: Enterprise episodes "Broken Bow" and "Shockwave." More recently, he performed as a stunt double for Patrick Stewart in eight episodes of the new hit series Star Trek: Picard, including "Remembrance," "Maps and Legends," "The End Is the Beginning," "Stardust City Rag" and four more.

Storms comes from a small town in Minnesota where his theatrical family appeared together in several performances. At the age of four, he had begun to train in gymnastics, moving into the martial arts at age twelve. In addition to his entertainment tenure, he has also been a circus performer, professional juggler, unicyclist, tight-rope artist and acrobat, among other things. Well-armed with a degree in classical and musical theatre from Mankato State University in Minnesota, Storms went on to do hundreds of plays as an actor, director and fight and dance choreographer. In 1991, he moved to Los Angeles to work in movies, but he has also continued his theatre career, supporting himself by teaching gymnastics and martial arts, which he continues to do to this day, teaching both for about 25 years.
Guest of Honor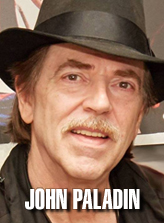 John Paladin
John Paladin is the convention makeup artist for J. G. Hertzler, Robert O'Reilly, Suzie Plakson, Max Grodenchik, Aron Eisenberg, Gwynyth Walsh and Casey Biggs. His makeup expertise goes back over 25 years, including serving as J. G. Hertzler's personal makeup artist on Star Trek: Of Gods and Men. He was the head special FX makeup artist for the Star Trek: New Voyages episode "Kitumba," in which he also played a Klingon.

Paladin is a former radio disc jockey, has had two records on the country charts and has acting credentials in radio commercials, TV commercials and movies. He was a drummer in two country bands and has worked with Dave Dudley, Bobby Bare, Jack Scott and many others. He currently owns Paladin Productions, Inc., his own audio production company.

Paladin will be available to do YOUR special Klingon or other alien makeup during Treklanta at his table in our Dealers Room.
Author Guest of Honor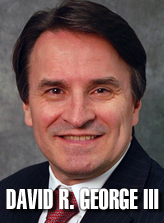 David R. George III
David R. George III is The New York Times and USA Today bestselling author who co-wrote the first-season Star Trek: Voyager episode "Prime Factors" and the author of 18 Star Trek novels and 18 articles for Star Trek Magazine.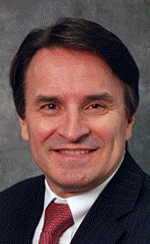 George's Star Trek novels include Original Sin, The Long Mirage, Ascendance, Sacraments of Fire, One Constant Star, Revelation and Dust, Allegiance in Exile, Raise the Dawn, Plagues of Night, Rough Beasts of Empire, The Embrace of Cold Architects, The Star to Every Wandering, The Fire and the Rose, Provenance of Shadows, Olympus Descending, Serpents Among the Ruins, Twilight and The 34th Rule.

His articles for Star Trek Magazine include "Star Trek 45s: 'Fight or Flight,'" "Do You Believe in Miracles?," "The Ultimate Guide: Deep Space Nine, Season 7," "Who Is... Christopher Pike?," "Who Is... Scotty?," "Who Is... Chekov?," "Resurrecting Okona," "Who Is... Doctor McCoy?," "Who Is... Sulu?," "Who Is... Jim Kirk?," "Life from Lifelessness," "Condemned for a Villain: Winn Adami," "Trek Lit Villains: Colonel Mitra," "Trek Lit Villains: Aventeer Vokar," "The Voice of the Hidden Waterfall," "Cowboys and Diplomats," "All the Galaxy's a Stage" and "Of Ice and Moonlight."

George's non-Trek work includes the novelettes "Moon Over Luna," "The Instruments of Vice" and "The Dark Arts Come to Hebron," all available as e-books on Amazon.com.

Born and raised in New York City, George and his wife Karen now reside in Atlanta, Georgia. Visit his web site at DRGIII.com.
Fan Guest of Honor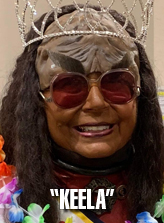 "Keela"
Imperial Xeno Legion Brigadier Keela zantai-Septaric, a.k.a. Leila McMichael, is a near lifelong Trekkie. She began watching Star Trek in syndication, unable to view it earlier due to geographical location. She has met many of the stars of the various series, including the original series, The Next Generation, Deep Space Nine, Voyager, Enterprise and even one from Discovery. She has participated, along with her former husband, Andy Fairbanks, in bringing Keela & Katkith's Klingon Karaoke to both Treklanta and Dragon*Con, as well as other local conventions.

Keela has been active in the Klingon Assault Group (KAG) since 1994, serving as a ship (chapter) commanding officer (CO) since 1999; a Quadrant CO for eight years; head of a KAG division, the Imperial Xeno Legion, for a few years; editor of KAG's online newsletter, Mindscanner, for several years; and has attended many conventions in her various Star Trek personae, of which Keela is her most popular. She competed in many Miss Klingon Empire Beauty Pageants over the years and won two of them, in 2012 and 2019. At 67 years young, she has no intention of slowing down, and will continue to express her love for Star Trek through cosplay and support of various Trek endeavors such as Treklanta. Qapla'!
Featured Guests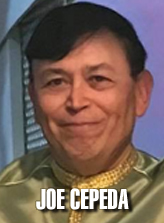 Joe Cepeda
Joe Cepeda is a retired Army officer, a graduate of the Art Institute of Atlanta and an active filmmaker in the metro Atlanta area with over 28 fan films to his credit. He is the creator and executive producer of Star Trek Natures Hunger, in which he also plays the role of Captain Ramses, and helps his fellow filmmakers by appearing in their fan films, as well.

Cepeda enjoys scriptwriting, prop creation, cinematography, set construction and studio lighting and started making films as a teenager, but it wasn't until the dawn of digital technology that he was finally able to make the films of his dreams. The 2009 Star Trek movie reboot inspired Cepeda to try his hand at making fan-made films, creating the Star Trek Natures Hunger series.

Cepeda is currently working on new productions and looks forward to bringing his creativity and imagination to the screen.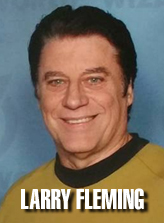 Larry Fleming
Larry Fleming has enjoyed films and filmmaking since he was a small boy. He went to West Hollywood Elementary School and played with other kids of stars (his dad was a professional baseball player). The acting bug he acquired then would influence him the rest of his life. Throughout his diverse career, which has taken him into many other fields, he has always returned to his roots. When he moved to Georgia, it appeared his work would slow down, or so it seemed. When Georgia put into place the best tax laws in the country for filmmaking, Atlanta became a thriving capitol of film and TV.

Although much of his work is in production, Fleming always wants to get in front of the camera—that infamous Hitchcock moment. Knowing both sides of the camera is always good for anyone involved in filmmaking. His current pleasure is in his involvement with various independent Star Trek fan films. He has played Captain Sam Murdock in Star Trek: Natures Hunger, K'Lell in Starship Tristan "The Chronicles of Lanclos," Knott in Starship Tristan "Be Careful What You Wish For," a crew member in Starship Farragut "The Crossing" and Trek Isolation "Out of the Fire," and Lt. Commander Atticus Lane in Exeter Trek "Our Dearest Blood."

When he is not working on a film, Fleming loves to cosplay. If done right, cosplay is like immersion theater. He has always been very active and has a number of awards for his work, including a Black Belt in Tae Kwondo. His onstage fight tactics have him playing the heavy if he is a bad guy or a cop if he is on the side of good. As an NRA instructor for a number of years, his firearm safety makes him an asset on any set that uses guns.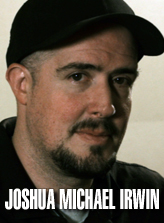 Joshua Michael Irwin
Joshua Michael Irwin wrote, directed, edited and executive-produced the Bjo Award-winning Avalon Universe episode "Ghost Ship" and appeared in it as Commodore Joseph Austin. He also co-wrote, co-directed, co-produced and was the cinematographer for the Avalon Universe episode "Avalon Lost," in which he reprised his role of Commodore Austin. Irwin also served as second unit camera and script supervisor for The Federation Files episode "Galaxy Hopper" and played Lt. Kenny Rogers in The Constar Chronicles episode "Shakedown."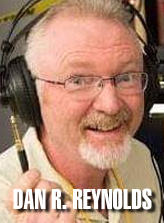 Dan R. Reynolds
Dan R. Reynolds has been in video and film production since the early 1990s and currently owns two television stations in Arkansas. His introduction into Star Trek fan films came when he was asked to be the sound engineer on the Star Trek: New Voyages episode "Mind-Sifter." The following year, Reynolds produced several behind-the-scenes videos for the production of the Star Trek: New Voyages episode "Torment of Destiny." Reynolds has been involved with many Star Trek fan films, offering his talents as cinematographer, sound engineer, post special visual effects and acting. He has partnered with Glen L. Wolfe to form WARP 66 Studios, which includes replicas of the original Star Trek series sets, including the bridge, sick bay, briefing/rec room, corridors, transporter room, shuttlecraft and captain's quarters. There, they write and produce an ongoing collection of Star Trek fan films, spotlighting the endless possibilities of stories that come directly from the history archives of Memory Alpha.

Reynolds has worked on several episodes of The Federation Files, including "His Name Is Mudd" (actor [as Thrall], editorial, sound, visual effects), "Walking Bear, Running Wolf" (cinematographer, editorial, music, sound, visual effects), "Extraction" (actor [as Capt. Randal], cinematographer, editorial, music, sound, visual effects) and "Galaxy Hopper" (sound). He also served as post-production coordinator for the Starship Valiant episode "Crosses to Bear."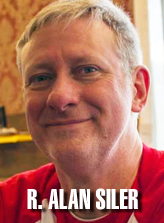 R. Alan Siler
R. Alan Siler is an author, editor and the owner of kOZMIC Press LLC. His published works include three books on Doctor Who (Doctor Who's Greatest Hits: A Guide to the Best Episodes from Time and Space, Facing the Raven: Doctor Who Series Nine in Review and Children of Time: The Companions of Doctor Who), a Star Trek book (Star Trek's Greatest Hits: A Guide to the Best Episodes From the Final Frontier), a children's picture book (Lucy Can't Dance) and numerous essays on Who, Trek, Twin Peaks, The Orville, classic sci-fi and horror films, and various music topics. He has written music, film and television reviews for Target Audience Magazine and 25 Years Later. He's a librarian, a drummer (currently playing in a Heart tribute band called Heartisans), a hardcore Bowie fan, an SNL aficionado, a bit of a foodie and a proud Ravenclaw!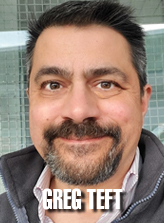 Greg Teft
Greg Teft returned to acting after a 30-year hiatus in the real world to play Captain Nuno DaSilva in Starship Republic, "a Star Trek fan film project aimed at recapturing the excitement and morality of Gene Roddenberry's original vision" which is scheduled to resume production in the fall of 2019. He also portrays engineering officer Timoteo Russo in The Constar Chronicles. Three years into working fan films, Teft has also written and directed an episode for The Constar Chronicles, filmed in April 2019 and due for release later this year.

Teft's love of science fiction and military technology has also been an inspiration for a lifelong hobby in scale model building. As a child, Star Trek and other science fiction inspired his initial interest in technical drawing, which led to early jobs as a draftsman at two northeast shipyards, later to his degree and then his current career in computer science and information technology.

Teft also enjoys being a grandparent, residing in Maine with his wife, three cats and two dogs.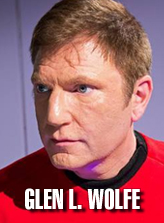 Glen L. Wolfe
Glen L. Wolfe is a retired biomedical engineer and Star Trek fan who has been involved with many fan films through the years in a wide variety of ways.

Wolfe wrote, directed, executive-produced and acted in The Federation Files episodes "His Name Is Mudd," "Walking Bear, Running Wolf" and "Extraction." Additional acting credits include Star Trek: Secret Voyage (as a Gondea Warrior in "Rise of the Gongdea"), Star Trek Continues (as Ops Technician in "Fairest of Them All"), Star Trek: Temporal Anomaly (as Lt. Glen Wolfe), Star Trek: Renegades (as Muscular Prisoner in "Pilot"), Star Trek: New Voyages (as an extra in "Mind-Sifter" and "The Holiest Thing"), Starship Valiant (as Transporter Technician in "Crosses to Bear") and Star Trek: Equinox (as Transporter Chief Guy Wolfe in "The Night of Time").

Wolfe also served as producer for Star Trek: Secret Voyage ("Rise of the Gongdea"), associate producer for Star Trek Continues ("Fairest of Them All," "The White Iris" and "Divided We Stand"), contributing producer for Star Trek: New Voyages ("Mind-Sifter" and "The Holiest Thing"), line producer for Star Trek: Equinox ("The Night of Time") and executive producer for Star Trek: Deception, Star Trek: Temporal Anomaly, Star Trek: Horizon and Star Trek: Ambush.

Wolfe has also contributed to these projects in various other roles, including property master, set director, set decorator, animatronics, construction grip, camera operator, costumer, wardrobe supervisor and practical effects. Currently, along with Dan Reynolds, he is in production of two more Federation Files chapters filming at WaRP 66 Studios.
Guest Performers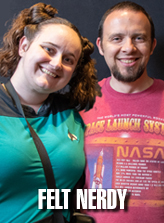 Felt Nerdy
Felt Nerdy is the Atlanta-based husband and wife puppetry performance team of Veronica and Charles Bramlett. Their Star Trek and science fiction-themed puppet shows have consistently been one of the most popular events at Treklanta since 2014, and we are pleased to welcome them back for another highly entertaining show in 2020.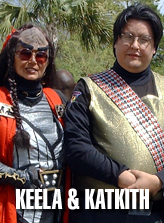 Keela & Katkith
Keela & Katkith's Klingon Karaoke (a.k.a. Leila McMichael and Andy Fairbanks) has been going strong since November 2002. They are regular fixtures at StellarCon and ConCarolinas in North Carolina with performances Friday and Saturday nights, to the delight of con attendees. In 2005, Keela & Katkith debuted their Klingon Karaoke at TrekTrak in Atlanta to an enormously enthusiastic audience and returned for the next four years, and then hosted their legendary show at Treklanta from 2011 to 2015. All songs are in the huMan tongue, as normal karaoke is; it's just that the venue is karaoke with a Klingon twist. Worried the song you want to sing is not in Keela & Katkith's Klingon Karaoke collection? Bring your own CD! TODAY is a GOOD day to SING!

After a four-year absence, we are delighted to welcome Keela & Katkith's return to Treklanta in 2020!
Guest Comedians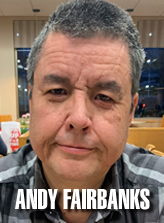 Andy Fairbanks
Andy Fairbanks is from Charlotte, North Carolina, where he has performed several stand-up sets at various talent shows, namely The Geek Gala and some open mic shows. On a recent trip to Tokyo, Japan, he performed at a couple of open mic shows in English.

Fairbanks is a lifelong Star Trek fan who started watching in the early 1970s when Star Trek was in syndication. In addition to performing in this year's Star Trek Stand-Up Comedy Show, he will also be co-hosting this year's Klingon Karaoke as one-half of the Keela & Katkith Karaoke show. And as if that isn't enough, Fairbanks also joins the Treklanta team this year as our Director of Technical Operations.
Featured Cosplayers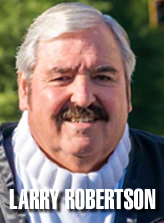 Larry Robertson
Larry Robertson, a.k.a. "Scotty," is a graduate of the United States Merchant Marine Academy with a Bachelor of Science degree in Marine Engineering. During a professional engineering career spanning over 45 years, he sailed aboard ammunition and commercial cargo ships, super tankers and oil well drilling ships. Additionally, as a program manager and flight test engineer, Robertson led teams to inspect Navy surface combatant ships and ballistic missile flight test development and execution in Hawaii and Alaska. Robertson retired from the Naval Reserve as a Commander and from federal service in 2008.

Since retiring, Robertson and his family have attended many cosplay events in the southeast. The high point of convention attendance was meeting Chris Doohan, who greeted Robertson to his table with "Dad." In his spare time, Robertson is finishing a sewing studio for his wife and building a scale model live steam 4-6-2 Heavy Pacific locomotive. He lives in Huntsville, Alabama, with his wife and 11 rescue cats.
Featured Artists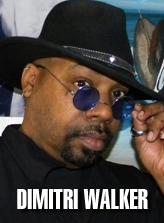 Dimitri Walker
Born and raised in Atlanta, Dimitri Walker is a simple artist at heart. Brush, paint and canvas are his tools. He has been a portrait artist since 1983, primarily graphite (pencil). In 1994, Walker began to paint with oils and acrylics. He also took a job picture framing to be near the art world. He continued to learn and became a Master Certified Framer. In 2005, at 40 years old, Walker went to college and earned a Bachelors of Fine Art. In the spring of 2012, while teaching a drawing class at a local art gallery, a student/friend who took his class to learn to draw the TARDIS better, said to him, "Dimitri, I know you watch and love all the same shows and movies I do. Supernatural, Star Trek, Doctor Who, Star Wars, Firefly and all the comic book movies. I have been to your web site. Why don't you have any Fan Art?" Walker replied, "What's 'Fan Art'?"

And the rest is history.

Treklanta is pleased to welcome Dimitri Walker back to our sixth Artists Alley in 2020. He also serves Treklanta as our Artists Alley Director. Visit his web site at Paintings by Dimitri Walker.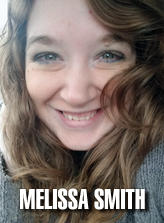 Melissa Smith
Mellie's Crafts is a blend of artwork and spirituality! Melissa Smith, more commonly called Mellie, is a local artist and writer from Huntsville, Alabama. Using both digital and traditional mediums, Mellie strives to showcase various aspects of art. Her artwork has been sold at local artist markets. She is also a big nerd, making fanart for various cartoons and anime. You can check out her web site for her shop, browse her Facebook, follow her on Instagram or Twitter, and give a shout-out!

Treklanta is pleased to welcome Melissa Smith to our Artists Alley for the first time in 2020.